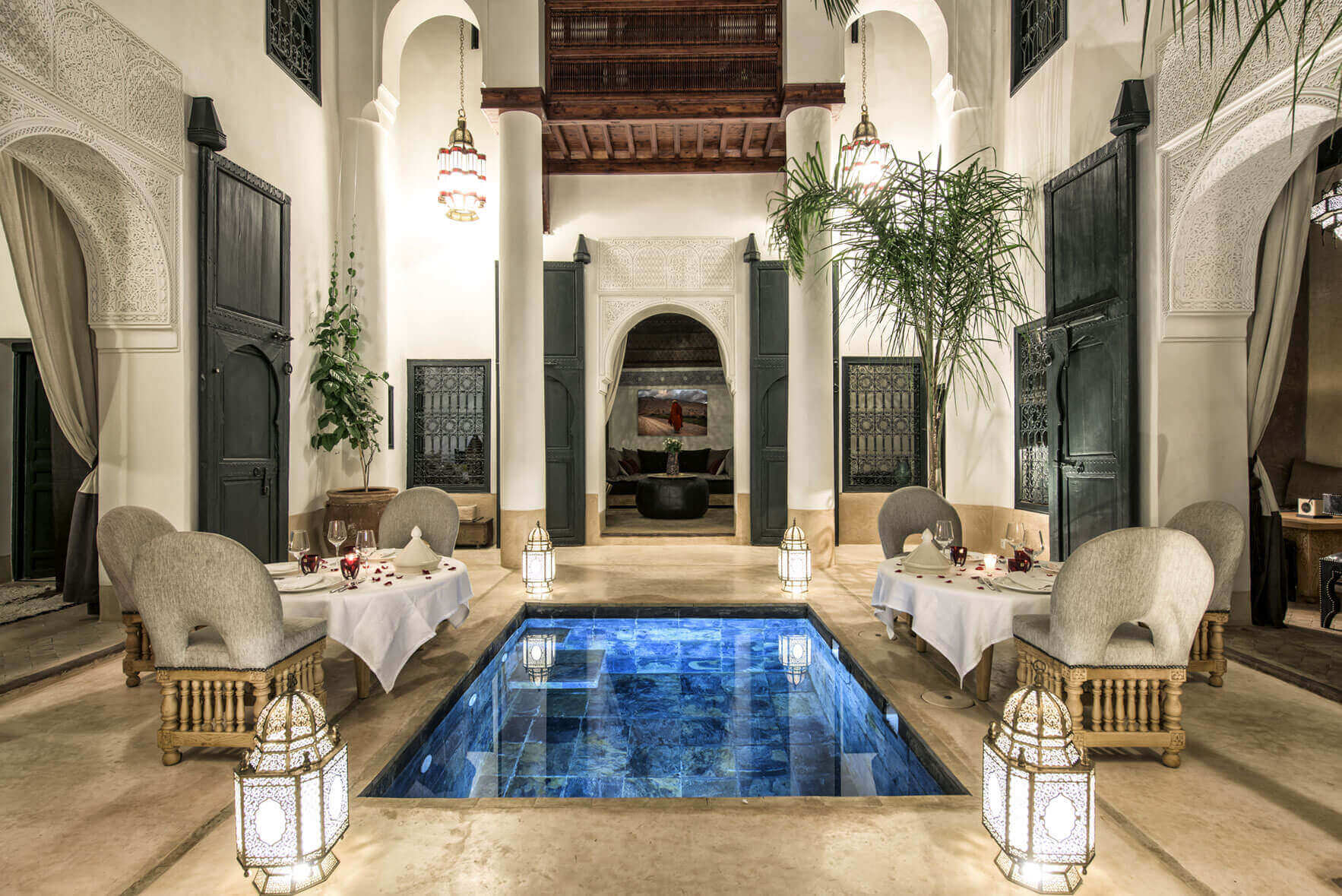 Dar Assiya Le Grand is a luxury riad in Marrakesh located in the heart of the Medina. This riad is a former noble residence dating back to the 15th century, and is located in the Marrakech Medina.
With the characteristic central patio and a decorative fountain, it preserves the typical structure of an ancient luxury riad in which the ancient portals and elegant decorations have been retrieved.
The riad is composed of 5 rooms, including 2 suites, and a terrace from which you can admire an evocative scenery, highlighted by the 69-metre high minaret of the Koutoubia Mosque dating back to 1184 and the Ben Youssef Mosque, crowned by the outline of the Atlas mountain range.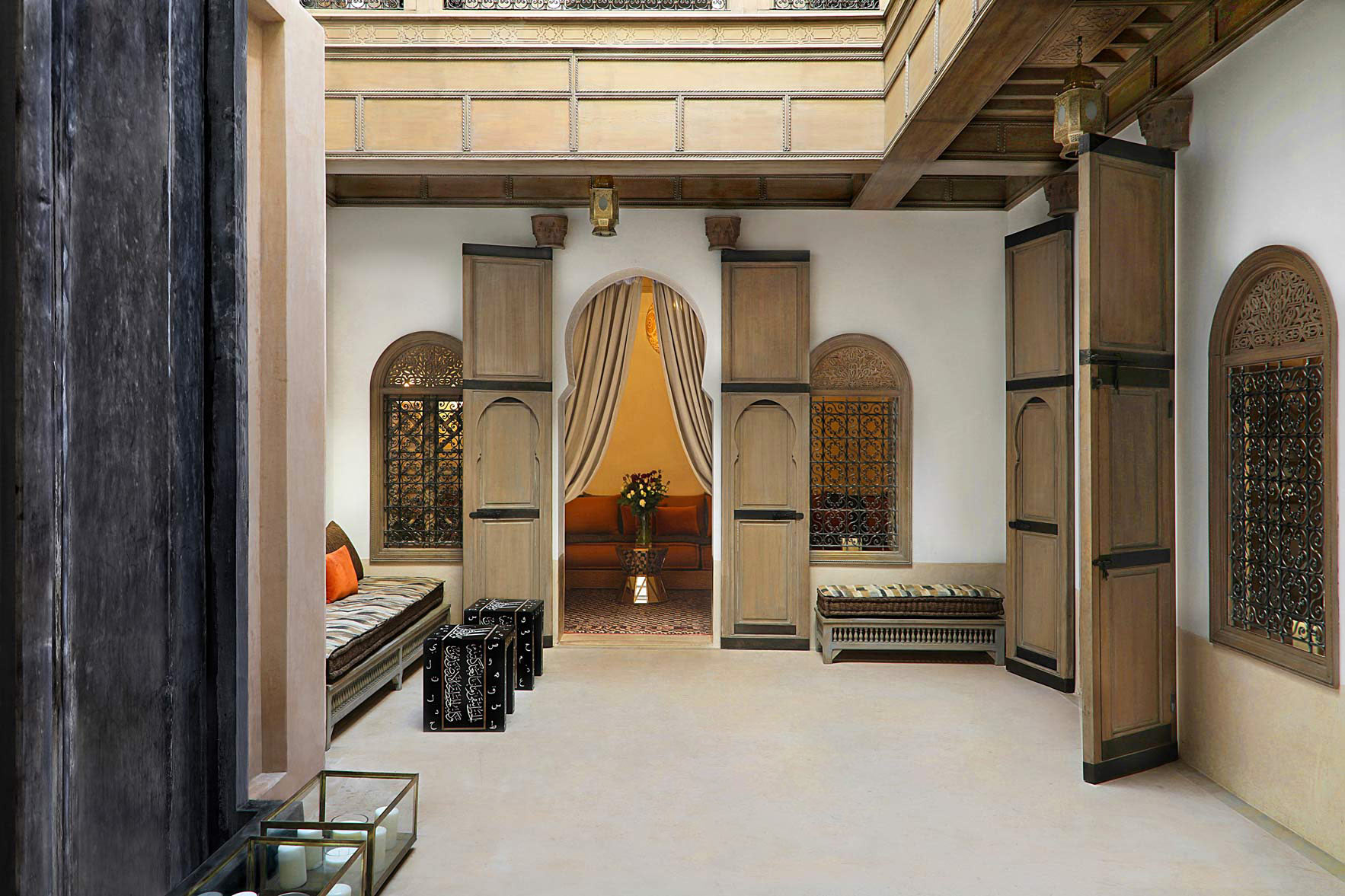 Dar Assiya Le Petit is an intimate and welcoming riad located in the Medina of Marrakesh. It is a completely renovated ancient residence that maintains the traditional Moroccan style revisited in a contemporary fashion.
The use of typical woods like cedar and tadelakt combined with precious fabrics, traditional finishes and furnishings evokes elegant atmospheres in an environment full of charm.
The riad is equipped with two suites to accommodate its guests and refined and relaxing common areas, such as the patio, the terrace with solarium and tub, and an exclusive hammam and massage room.
Two completely renovated riads in Marrakesh, each with its own peculiarities, but both with the characteristic of maintaining their ancient charm unchanged, managing to harmonise past and present.
The Dar Assiya Le Grand riad hosts the traveller, welcoming him in the silent patio, open to the bright sky, the first moment of satisfaction of the senses that only a city like Marrakesh can give.
In the Dar Assiya Le Petit riad guests are greeted by an atmosphere of warm intimacy and can refresh themselves on its terrace, admiring the beautiful colours of the Marrakech sky and relaxing in the hammam or the massage room.
All areas and rooms in our riads maintain the traditional Moroccan style. In every room of our riads in Marrakech you will find heating, air conditioning, large wardrobe, safe, traditional furnishings and private bathroom with shower.
The suites also have a cozy seating area.
Both riads have free WiFi connection in common areas and in all rooms.
We wish to offer our guests a unique experience, allowing them to live the atmospheres and traditions of an extraordinary country like Morocco to the full.
Our riads offer travellers wellness treatments, massages, a hammam, Moroccan cooking classes and two restaurants where they can savour the typical Moroccan cuisine or enjoy excellent international dishes.
The structure organises transfers to and from the airport, a taxi service and accompaniment in pedestrian areas, and personalised sea, mountain or desert excursions.
On their arrival, we provide our customers with a mobile phone for contacting the staff of the riads at any time and for all needs.